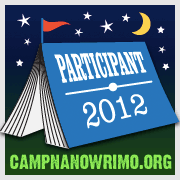 Day 6: Help?
I'm irritated by Liquid Story Binder already. That took a long time, didn't it? I used it for almost a whole week.
The trouble with LSB is that it takes a lot of time and effort to sort out where to drop everything. I have the story, I have the first drafts of the other three books in the series and half a second draft, I have around 10k of supporting material...
Actually, on second thoughts that's over 20k of supporting material. I forgot that I can count the stuff I wrote last year as well. So, 300k of drafts and 20k of supporting material. At the moment most of it sits in yWriter because... well, it's there, it's reliable and it's free. Really, the only things I want to change about yWriter are to have keyboard shortcuts and to have a pretty background on the full-screen mode.
Okay, and the ability to key my way through scenes while in full screen.
Unfortunately, I just can't make any of the available software packages do those things. It bothers me far more than it should, so it's probably some kind of psychological issue related to my oft-stated conviction that my entire creative paradigm is wrong...
I'm sliding into the abyss of Doom and Gloom again, aren't I? Any advice on how to avoid that, internet?
Well, there's always Robot Unicorn Attack Heavy Metal. The combination of unicorns, Blind Guardian and plenty of explosions is always cheering.