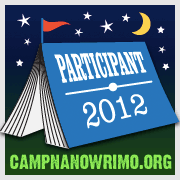 I don't know if this is going to be the absolute end of my Camp NaNo campaign, but at the end of Day 16, with 29,084 words written I'm at the point where the (very bad) pun of calling it a 'cam-pain' comes to mind.
Yesterday's post was what you'd call a very bad sign. The fact that today I don't even feel up to a long-winded explanation is even more serious. I wrote a thousand words of
Doom
today and I regret it.
So, it looks like it's time for that break from writing. I'll catch up on some reading, watch the rest of Sanctuary and then crack open my box of $2 movies left over from Christmas. Maybe if I need to feel productive I'll read a couple of my first drafts that I've never read end-to-end before.
Unless I write like hell at the end of the month, I can't see myself scoring a Camp NaNo win this time. I don't think I have a choice right now, though. When it takes me nearly half an hour to work my way through a 200 word post, I really should listen to the voice of reason.
For now, this means the end of daily Camp NaNoWriMo-themed posts. Oh, well - sixteen posts in a month is a record for me anyway.
230 words in 35 minutes. G'night, everyone.